**
Disclaimer: This particular post has taken me almost a month to write for a reason. It was hard to write. I would appreciate any questions or comments about anything I've written to be directed to me. Thanks.**
Some of you may have heard about the "Game of the Century" a few weeks ago in Tuscaloosa, well my weekend started Friday around noon when I hit the road to Ttown to get ready for my sister's wedding.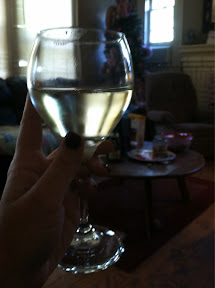 Yes, my sister got married the day before the LSU game in Tuscaloosa. I've never felt emotion like I did that day. Let me back up to the Sunday after the Tennessee game... Liz and Clay came by mom and dad's to announce they'd set a date. November 4th, 2011. They also informed us they were inviting 4 guests to the ceremony and 20 guests to a dinner following. I immediately started bawling. The first words I spoke went something like this, "4 guests? Are you f-ing serious?" Classy, I know. To which Elizabeth replied something like, Be happy you're one of them. She went on to name the four guests...none of which included my parents or his parents. I then announced if my parents weren't invited then I wouldn't be in attendance. I could not for the life of me understand why you wouldn't want your parents at your wedding especially since our family has always been so close.
I love my parents so much and they are good people. I couldn't understand why she wouldn't want them there. I was caught in the middle. I love my sister, I support her, if she's happy I'm happy for her. But I also love my parents and it killed me to see them so upset they've been dealt some blows and I think this was the most hurt I've seen them. I mulled over it for two or three days and with my parents blessing I decided I should go to the ceremony if I was invited.
I arrived in Tuscaloosa a little after 1:00 Friday and the whole town was a buzz. There were people everywhere already ( for the game not the wedding). I got to the house and Elizabeth and Amy were getting ready. We all chatted and laughed. I wasn't sure if I was going to be able to make it through the day. I was trying so hard to stay strong, I've gotten pretty good at smiling on the outside when I really want to sit in the corner and cry. I was completely torn the entire day. We all got ready and then it was time for Liz to put on her dress and finish her hair. While I was so honored and excited and happy to be there, I was also dying on the inside. I wanted my mom to be there. It's a mom's job to make sure your veil is straight and that your shoes are buckled. I was reminded of my wedding day so much. My sister and I spent that entire day together and we laughed a lot. We laughed a lot this day too but every time I laughed I felt guilty that I was there and my mom wasn't.
Soon enough it was time to head to the church. We arrived at little bit early and the priest wasn't there yet. He quickly arrived and we headed into the chapel. The chapel was beautiful and it was a really sweet, intimate ceremony. One of the prayers was that you are blessed with children and they bring you much joy and all I could think was that their parents weren't there and how much joy being a part of this ceremony would have brought to them. I always cry at weddings and this one was no different. I cried like a baby. It was really beautiful. I was so happy I went because I know I would have regretted not being there. Sometimes we have to suck it up and smile even if you think it may be the last thing you ever do.
After the ceremony we went to Cypress Inn for a nice dinner. Patrick and I love Cypress Inn, I was sad he wasn't able to join us. He wasn't able to get off work. I was happy to finally see my parents.
John and me before dinner.
Me and the bride.
Amy and my Mom, they both looked beautiful.
Amy and John
We felt like we were at the kids table. So to play the part when Keith opened his potato we all thought it looked like a seal so we made a ball and put it on his nose. Isn't he cute. We had Gigi's cupcakes and then we headed to the house.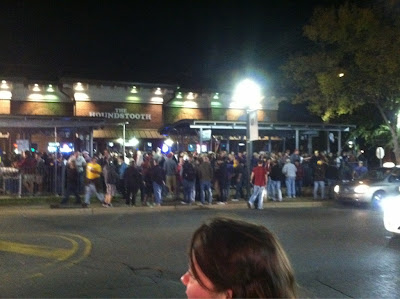 Once we got to the house we decided to head to the Houndstooth. This was the outside at 8:30 Friday night. It was crazy!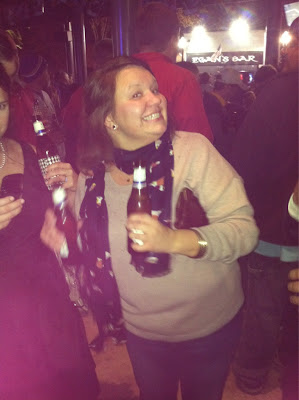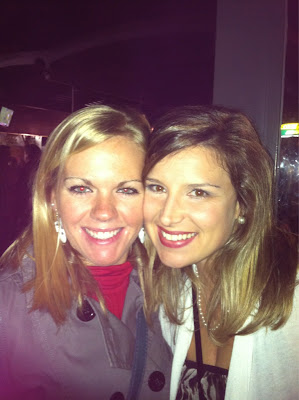 I was excited to see my new friend Shannon. Love this girl!
Also got to hang out with an old friend from high school.
We didn't stay out to late. We got back to the house and Amy and Shannon were going to another bar so I just decided to call it a night. Before I went to bed, Dad and I took Ally for a walk and we ended up walking all the way back to campus to see the Gameday set. We also passed this casket in the bed of a truck. Pretty random.
I've tried so hard to put all of this behind me. It's just so hard when you see people that you love hurt, it's even harder when the cause of the pain was the action of another person that you love too. I try to forget the pain but it gets brought to the surface all too often in a photo or a friend who mentions it in public because weddings are happy occasions.
And for the record my feelings about this situation have nothing to do with the person Liz has chosen to spend her life with. It wouldn't have mattered who was standing beside her. The fact that my dad wasn't there to give his daughter away and my mom didn't get to see her stand in front of that chapel and vow to spend the rest of her life with someone is where the hurt comes from. The fact that it didn't seem bother either of them that they hurt people that love them deeply fueled these feelings.
If I've learned anything in my 27 years it's Life is all about perspective. While all this was so hurtful and some of us even found ourselves navigating the stages of grief, it could be a lot worse. They are still in our lives. I am still able to call her on the telephone if I want to tell her something. I don't want that to change but I also want it to be understood how hurt I was and why I was hurt. I've tried to understand and respect the decisions they made but that doesn't mean I have to agree with them. It also doesn't mean my feelings won't be hurt.

Thanks for sticking with me. I hate writing these types of posts but sometimes I just need to pour my heart out. I try to keep it real and this is about as real as it gets.