(You can catch up on Part 1 here)
We got up bright and early on gameday to watch Gameday. I had to go to the store for a few things so I headed out. I went to the Publix on campus, not that this is important, I basically went in my pjs thinking I wouldn't see anyone. I don't know why I thought that. There were people everywhere. I pretended like I wasn't wearing my pjs and started gathering my goods. I got to the check-out and realized I didn't have my id or card. So I left my buggy and ran home. I'm not going to lie the thought crossed my mind that this wasn't a good sign for the day to come.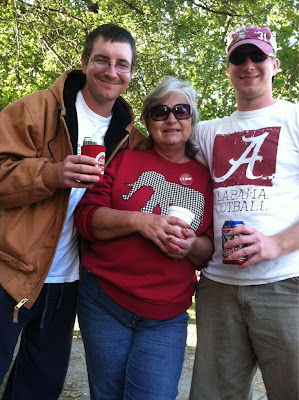 Slowly but surely we all got up and got ready for the day. After the events the day before we were all a little spent emotionally so it took us a little longer than usual to get into our tailgate groove. It wasn't too much longer till everyone started filing in.
A little later we ventured to the quad. There were more people in Tuscaloosa for this game than I've ever seen there. It was unreal
When we got home from the quad Ally was pooped. It's tough to be carried all that way. We rested and refueled for the big game. I was nervous.
Before we left the house.
Amy and I saw this beautiful sunset on the way to our seats.
In our seats. We managed to spill two drinks before the game even started. The man in front of us (that we spilled a drink on at the UT game) turned to us when he got to his seat and winked. It was a little creepy but made us laugh. Apparently he didn't hate us. The game was frustrating to say the least. It should have never come down to our kickers or overtime.
When we went into overtime I went to the bathroom. I couldn't watch. I came out of the portal to watch the 2nd overtime and met these two super sweet people. They weren't even really Bama fans but they consoled me anyway. They ended up coming back to the house for dinner and drinks. I enjoyed them.
I think this photo best describes everyones feelings at the end of the day. We were all pooped both physically and emotionally. I was sitting at the table trying to decide if I wanted to drive home or not and I just started crying. I looked like an idiot. (It also made the season complete, I some how managed to cry about something every single home game. It's a gift, or a curse I'm not sure yet.) I just got to thinking about that being the last tailgate I'd probably go to at that house. We've had some amazing times there and I was sad thinking about not seeing all these people every Saturday in the Fall. John will still be down there next year so hopefully we'll have a place to hangout.
All in all it's been a great season. The loss hurt, only because we had every opportunity to win and we blew it. We're on track to get our rematch in the BCS National Championship Game in New Orleans. I would give my right arm to be there. (Which I may have too!)
Roll Tide Roll!