I've had a full day and night. I got up and cleaned house. I love having a clean house, just hate having to actually clean it. After the house was clean I got ready and Lorie picked me up to meet Kristen for lunch. I had not seen Lorie or Ellie in a month. I'm not even sure it was the same baby. She looked so much bigger and was smiley the whole time. She fell asleep while we were waiting on our food, I just loved holding her. After lunch we went by my parents house. My mom had not seen her yet and had a little gift for her. I loved getting to spend the day with them. Hopefully it won't be another month before I see her again! Can you believe I didn't take a single photo? I know I'm a real slacker.
After my visit with the girls, it was time for the Slovensky Family Christmas party. Patrick had to work so I rode with mom and dad. It was fun as usual. This is the only photo I took at that party. (I really need to get my butt in gear, this can not set the tone for the Christmas photos to come!)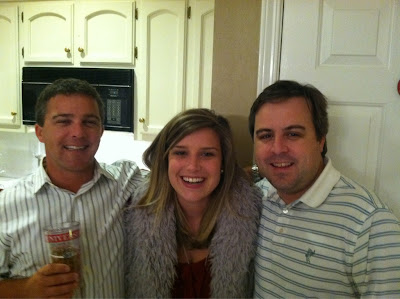 My cousins Andrew and Adam. I only get to see Andrew once a year. He lives in southern Florida and works all the time. When I was a kid these guys seemed so much older than me. Now not so much!
On our way home Dad took us looking at Christmas lights but it was 11:30 and most were turned out for the night.
Day 355